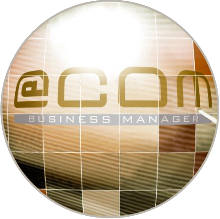 The @COM products offers a number of telephony solutions created for the business market. @COM products are created by TechNetworks BV and can be bought via resellers.
There are several @COM products in existence today, and by far the most popular one is the "@COM Business Manager Telephony Server (PBX)". The @COM Business Manager is mainly what this website is all about, however there are also other products like the "@COM System Alert", the "@COM Connect" also known as "AsteriskConnect", and the "@COM Reporting Server.". We will give a short introduction in to each and everyone of these product below.
@COM Business Manager
The @COM Business Manager is a complete SIP based telephony system, installed on robust and specially developed for communication server platform, or on a vmWare guest system. It uses a customised bundle of CentOS Linux, Asterisk Open-Source, SAP Crystal Reports, PostgreSQL and some others smaller software components to build a high quality telephony solution nearly all businesses.
@COM Service Alert
The @COM Service Alert is a fault reporting system originally developed for a company that offered a world-wide 24/7 service to its customers. Customers would report incidents by calling this 24/7 ready service, which will then report the incident to the best available service engineer via SMS and/or a phone call. The best available service engineer is determined based on a predefined work-schedule, the customer who reported the incident, and the affected product. The primary engineer will first receive a text message via SMS with the request to confirm receiving the message via SMS or phone. If the engineer fails to do so within a predefined amount of time, the system will call the engineer and will request him/her to confirm receiving the message by pressing "1". If the primary engineer fails to confirm receiving the message, a backup engineer will be contacted via SMS and later on also via a phone call as happened with the primary engineer. Engineers will need to acknowledge receiving the the message to ensure that the incident reported has been actually read by a human and not an automated reply or answered by voicemail. If all attempts fail it will log this (among other actions) in a logbook with is presented to service managers, allowing them to maintain an overview of the performance of their service-team in terms of response-time. The customers, engineers, products and engineer-schedules can all be defined within the system or synchronised from a CRM/HRM system, making the system easier to maintain.
 
@COM Connect (AsteriskConnect)
The @COM Connect (also known as AsteriskConnect) is a standardised CSTA/XML CTI interface for nearly all Asterisk-Based telephony servers. The software was originally built to connect the PeterConnects Attendant Console to the @COM Business Manager in order to add PC Operator functionality to the @COM Business Manager. It soon became apparent that multiple other Asterisk based PBX system were also in need of a proper PC Operator Console, and thus it was decided to also offer this product to other consumers.


@COM Reporting Manager
Based on SAP Crystal Reports this system can be attached to an @COM Business Manager in order to create more than the average amount of standard reports, or in order to create your own reports. The @COM Report Manager is the perfect solution for larger customers with Call Centers who need more reporting than an average customer needs. It offers the following features:
Faster because it runs on a separate server, so all the power is 100% available for reports
Reports can be obtained over a longer period. (History)
Webbased access to reports
Extensive scheduling can be done
You can create reports using SAP Crystal Reports XI Designer software itself
The database is accessible for yourself so that you can use (such as Excel) to create reports. Your own software solution