Using Mitel's SIP DECT system it's easy to enroll a DECT multi-cell radionetwork, where the IP base stations are to the LAN. The range of the radionetwork is only limited by the available base stations. The DECT system can be extended with up to 256 base stations and 512 handsets and therefore can be used in large offices and large industrial sites. During a call it's possible to roam between the coverage area's of the base stations without interrupting the call. This ensures that you have all advantages of wireless communication.
For use with the @COM Business Manager we've selected the following base stations:
 
RFP 35 IP
Specifications of the RFP 35 IP:
Supports all 120 DECT channels for maximum use of the capaciity of the DECT standard
8 concurrent channels per RFP, 4 additional channels for handover
Integrated DECT antenna
Supports Power over Ethernet standard IEEE 802.3af, class 0
 
RFP 36 IP
The same specifications as RFP 35 IP and:
for outdoor use
IP65-protection against dust and water
 
RFP 37 IP
The same specifications as RFP 35 IP and:
for outdoor use
various external antenna's
IP65-protection against dust and water
 
Toestellen
You can choose for the new Mitel's 600 series DECT phones This serie DECT phones give access to all functions like text messaging, emergency keys, phonebook, etc.
The 612D is the base model offering sufficient functions for most users.
This phone offers a colour screen, headset connector (wired), 2 programmable navigation keys, and 2 programmable soft keys.
In addition to the 612D, the 622D also offers bluetooth support for connecting a wireless headset.
De 632D is zeer geschikt voor gebruik in vochtige en stoffige omgeving.
Het toestel is volgens de industriële norm IP 65 beveiligd tegen vuil en opspattend water. Hij is bovendien eenvoudig te reinigen, waardoor dit toestel voldoet aan de hoogste hygiëne eisen en is geschikt voor gebruik in de medische sector. Het toestel heeft ook bluetooth ondersteuning en heeft een alarmknop
De 650D biedt naast de functies van de 622D ook ondersteuning voor CAT-iq 1.0 gecertificeerde G.722-breedbandaudio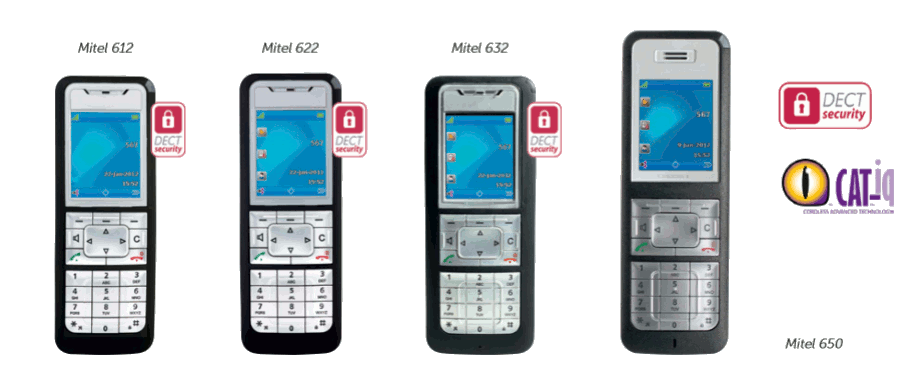 Naast de Aastra 600 serie kunt u eventueel ook standaard DECT toestellen koppelen aan de DECT zenders. U kunt dan echter geen gebruik maken van de aanvullende functionaliteit.