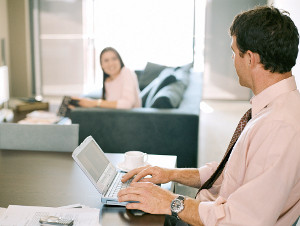 Many employees now work part time, regularly work from home or have a flexible workplace. Nevertheless, there is absolutely no need to make concessions regarding the contactability and communicative capacity of these employees. The @COM Flexworking software module was designed to meet the market demand for optimal flexibility in the many forms of flex working.
Why @COM Flexworking?
@COM Flexworking software by @COM Business Manager is aimed at optimum contactability of flex workers in dynamic organisations. It is important that employees without a fixed workplace can be contacted by colleagues, as well as their business relations. By allocating a personal telephone number to each employee, he/she remains in contact with his/her environment. Wherever they are, at any time. This enables you to maximise the use of the space and
potential within your organisation, making substantial savings on your operational costs.
How does it work?
An employee can log into any phone with his/her unique code. After login, the employee can be contacted on his/her own phone number and has the 'rights' to dial certain numbers. It is not necessary to log out first. This can be done automatically by giving each employee a logout time. However, the employee can log into another phone without first logging out. They are then automatically logged out of the first phone. If desired, the employee can have his/her own extension number, the main number of the organisation or no number displayed with outgoing calls.
The advantages
• Optimum contactability of flex workers
• Optimum use of workplaces
• Substantial cost savings