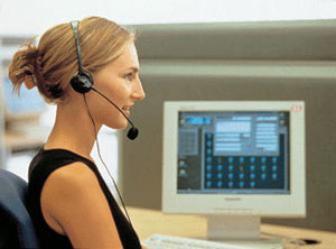 Computer Telefonie Integratie (CTI) is an essential part of modern businessed,
it will extend your Business Intelligence software and improves your efficiency.
The @COM Business Manager provides in many CTI solutions using techniques that make most concepts become a reality, through standard software, but also custom solutions.
Standard CTI solutions
Below is a short overview of our standard CTI-solutions (Applications) available for the @COM Business Manager:
Call number from within any application on your PC
The most important phone configurations and features available on your desktop.
Logoff or Logon flexextensions automatically when you logon/logoff your PC.
Displays the ACD agent status, Queue info, Call History and lots more...
Display ACD Queue and Agent status on a big screen.
Web-based viewing and playback of call recordings.
 
Also take a look on the Application page
Custom solutions
Are the standard solutions not sufficiant for you?
Check our Custom Solutions .