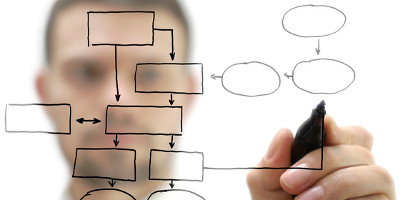 Wilt u echter iets heel specials dan kunnen wij dit voor u op maat ontwikkelen, maar als u de Open-Source variant van de @COM Business Manager heeft kunt u dit ook zelf doen. Voor meer informatie over de Open-Source variant van de @COM Business Manager, klik hier.
Kiest u ervoor om ons het maatwerk te laten doen dan zullen wij dat op professionele wijze voor u doen.
 
Om u een indruk te geven van onze werkwijze staat hieronder een stappenplan:
Concept Functioneel Ontwerp (CFO)
U stuurt ons een concept functioneel ontwerp, dit is een eenvoudige omschrijving van de gewenste functionaliteit eventueel aangevuld met was schetsen om het één en ander te verduidelijken.
  
Voorlopige Offerte
Wij analyseren het concept functioneel ontwerp en sturen u op basis hiervan een offerte. Omdat niet alle gegevens voorhanden zijn in deze fase betreft het een voorlopige offerte. Echter in de meeste gevallen zal deze offerte ook de definitieve offerte zijn, maar mocht in de volgende fase blijken dat uw concept functioneel ontwerp te veel afwijkt van het uiteindelijke functioneel ontwerp dan is een tweede offerte noodzakelijk. 
  
Functioneel Ontwerp (TO)
Als u accoord gaat met de offerte maken wij een officieel functioneel ontwerp en sturen deze ter accoord naar u op. Dit is een belangrijke stap omdat in dit document wordt omschreven hoe wij denken dat de oplossingen het beste kan worden gemaakt. Natuurlijk hanteren wij als basis hiervoor uw concept functioneel ontwerp. Het is essentieel dat onregelmatigheden in dit document door u in deze fase worden teruggekoppeld, dit document wordt na wederzijds accoord namelijk leidend!
  
Definitieve Offerte (indien van toepassing) 
Is het definitieve functioneel ontwerp te veel afwijkend van het uw eerste concept functioneel ontwerp dan zal er een nieuwe offerte moeten worden opgesteld.
  
Technisch Ontwerp (TO) (indien van toepassing)
Als het maatwerk enigzsinds complex is of er zijn meerdere partijen bij betrokken dan is het noodzakelijk dat voordat er daadwerkelijk ontwikkelt gaat worden er een Technisch Ontwerp wordt opgesteld. In dit document staat tot in detail omschreven hoe de oplossing technisch wordt gerealiseerd zodat tijdens de ontwikkelen de ontwikkelaars een leidraad hebben, maar ook om eventueel vele jaren later nog te kunnen teruglezen hoe het ontwerp ook al weer in elkaar zat. Zo'n technisch ontwerp kost veel tijd om te maken, maar voorkomt heel veel fouten en verkort de uiteindelijke ontwikkeltijd. Feitelijk wordt de ontwikkeling vooraf op papier gedaan.
  
Programmeerfase
In deze fase wordt het werkelijke programmeerwerk uitgevoerd door onze ontwikkelaars. 
  
Factory Acceptance Test (FAT)
Na het programmeren moet er getest worden of ook alle gewenste functionaliteit naar wens functioneert. Dit wordt allereerst door de ontwikkelaars zelf gedaan, in de "Factory" dus. Worden er fouten gevonden, dan gaan we terug naar de programmeerfase. Zijn er geen fouten dan gaan we wij u op locatie testen.
  
Site Acceptance Test (SAT)
De Site Acceptance Test is een moment waarin wij bij u op de locatie (On Site dus) de oplossing op uw eigen systeem testen. We testen daarbij nogmaals op dezelfde onderdelen als die we eerder hebben getest in de FAT, maar bij de SAT mag u zelf ook vooraf aangeven welke onderdelen u getest wenst te zien. Gaat u aan het einde van de SAT accoord met het resultaat dan volgt de oplevering.
  
De opleveringfase
Dit is vanzelfsprekend de laatste fase waarbij wij u de eind-factuur sturen voor de uitgevoerde werkzaamheden.