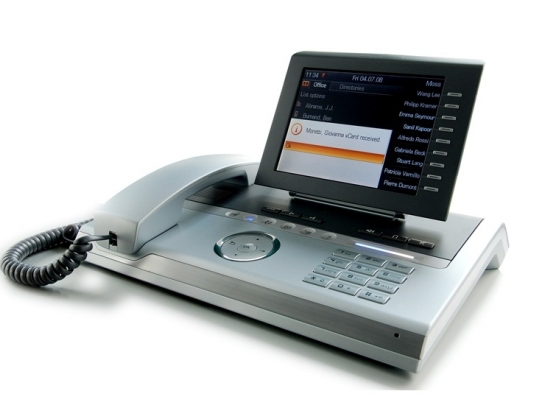 Unify (formely Siemens) has a very good reputation when it comes to making solid business devices for years. This also applies to the OpenStage product range with their award-winning design! The user-friendly interface and solid construction makes these phones an excellent choice for your business. The @COM Business Manager provides fully automatic configuration of these devices making flawless deployment reality. Therefore these devices are "Fully-Supported".
Supported Unify OpenStage phones
OpenStage 15 SIP
OpenStage 20 SIP
OpenStage 40 SIP
OpenStage 60 SIP
OpenStage 80 SIP
* Also all "G" variants with Gigabit ethernet ports are supported.
Feature matrix
OpenStage model:
OS15
OS20
OS40
OS60
OS80
Display

Resolution

2x 24 characters
2x 24 characters
Graphics (240x128 pixels)
Graphics (320x240 pixels)
Graphics (640x480 pixels)

Color

Monochrome
Monochrome
Monochrome
16-bits color
16-bits color

Size

 N/A
 N/A
 5,1 inch
 5,7 inch
 6,4 inch

Tiltable

 -
 Yes
 Yes
 Yes
 Yes

Backlit

 -
 -
 Yes
 Yes
 Yes
Keys / LED's

Function keys

5 (3 red LED's)
9 (5 red  LED's)
10 (6 red  LED's)
6 (5 red LED's)
6 (5 blue LED's)

Programmable keys

8 (red LED)
-
6 (touch with red LED)
8 (touch with red LED)
9 (touch with blue LED)

Touch keys

-
-
-
6 (blue LED's)
6 (blue LED's)

Optical call alert

-
-
Red LED
Blue LED
Blue LED

Volume adjustment

via +/- keys
via +/- keys
via +/- keys
via TouchSlider
via TouchSlider

Navigation element

3 navigation keys
5-way navigator
5-way navigator
TouchGuide
TouchGuide
Functions

Call handling

2 simultaneous
2 simultaneous
2 simultaneous (Graphical)
2 simultaneous (Graphical)
2 simultaneous (Graphical)

Phonebook

-
-
Personal & LDAP
Personal & LDAP
Personal & LDAP

Call history

Yes
Yes
Yes
Yes
Yes

Voicemail

Yes
Yes
Yes
Yes
Yes

Menu

Yes (User / Admin)
Yes (User / Admin)
Yes (User / Admin)
Yes (User / Admin / Applications)
Yes (User / Admin / Applications)

Bluetooth

-
-
-
Yes
Yes
Interfaces

Netwerk ports (Mbps)

2x 10/100
2x 10/100*
2x 10/100*
2x 10/100*
2x 10/100*

Headset jack

-
-
Yes
Yes
Yes

EHS** (wireless headset)

-
-
Yes
Yes
Yes

Key Modules

Yes (max. 1)
-
Yes (max. 2)
Yes (max. 2)
Yes (max. 2)

USB Support***

-
-
-
Yes
Yes
* OpenStage 20/40/60/80 ook verkrijgbaar in G uitvoering (1 Gbps)
** EHS = Electronic Hook Switch
*** voor backup/restore gebruikersgegevens