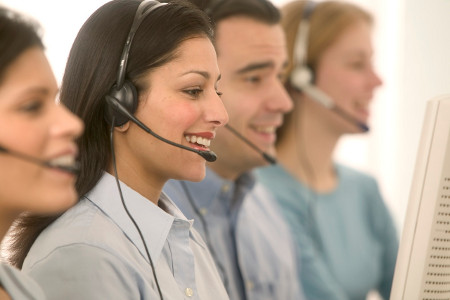 It is important that incoming phone calls are distributed efficiently. This prevents your business relations being kept 'on hold' for unnecessarily long periods, raises your service level and ensures that the caller is directed to the appropriate employee. The @COM Call Center solutions makes those things easy for any kind of organisation!
What is ACD?
The Call Center features in the @COM Business Manager are provided using a technique caller "Automatic Call Distribution", in short; ACD. This technique forms the bases for our Call Center solutions and we refer to it quite often, which is why we are explaining this here. The technique does exactly what it says. It support additional functions, such as; dynamic queue information tells callers about their position in the queue and/or the expected waiting time. ACD also gives employees more control over incoming calls. Optional software such as Call Center Wallboard and the Call Center Client application gives users a clear overview of the number of calls in the queue, the average waiting time, the number of agents in the group and the service level attained. Call Center Reporting also provides clear historic insight into your employees' performance.
Why is it important?
Automatic Call Distribution ensures that incoming calls are automatically routed to an available agent. This is based on availability and the number of calls/call duration of these agents and helps distribute the calls fairly. Options include fixed routing, cyclical routing or routing based on the agent with the fewest calls. Agents can join several ACD groups at the same time, while distinguishing between calls from the various ACD groups.
Call Center features
Here are just a couple of the features provided by the Call Center features in the @COM Business Manager:
Dynamic queue information
Skill based routing
Queue prioritisation
Announcements for agents
Call Center Wallboard
Call Center Agent software
Call Center Reporting software