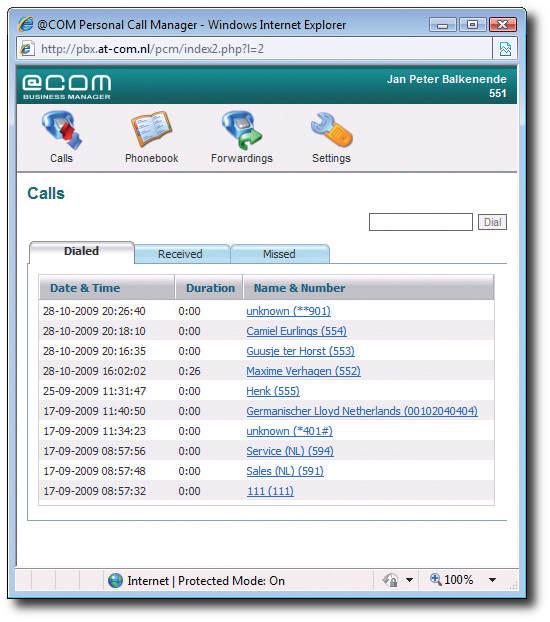 NEWS FLASH:
An all new @COM Personal Call Manager v2 is coming soon for the @COM Business Manager v2. Stay tuned for more information.
 
The @COM Personal Call Manager (abbreviated: PCM), is a web-based application with which you have your personal portal to the @COM Business Manager phone system. It enables you to manage your phone extension using a simple web-interface, offering you a complete oversight of the call-history, allows you to easy redial and setup calls from the corporate directory, and to control telephony features that can be enabled on your extension.
An overview of all the features is listed below:
Insight to the call history of your @COM extension, for all:

Called numbers
Received calls
Missed calls

Access to the @COM Corporate Directory offering quick and easy access to thousands of numbers your company may have stored in here.
Via Click-to-dial easy dialling of all numbers displayed with the PCM.
Manage the Call Forwarding on your @COM extension, allowing you to set these call forwarding scenarios;

Direct call forward of calls.
Call forward on busy.
Call forward on no answer.
Direct Call forward to voicemail.

Enabling/Disabling the Do Not Disturb status (DND).
Enabling/Disabling the the anonymous Caller ID state (CLIR).
Setting the language of the web-interface  (NL/EN).
NOTE:
To use the PCM you will require a special user-based license. Also, your @COM Administrator will need to create a user account for you that is enabled to use the PCM feature. This can be set using the LMT menu: "Users and Administrators" -> "Users". Users can also be created automatically if the "Active Directory user synchronisation" feature has been turned on.