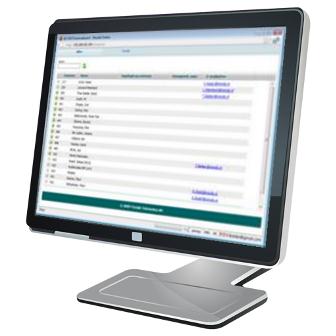 Het @COM Presence board is een web-based applicatie die een optimaal overzicht geeft van de beschikbaarheid van uw collega's. Dit geeft onder andere telefonisten, receptionisten en een afdelingssecretariaat de ondersteunende informatie om efficiënt en klantgericht te kunnen werken.
Zo krijgen zij in een overzichtelijk scherm snel inzage of collega's wel of niet beschikbaar zijn, in gesprek zijn, in zijn gelogd op @COM Business Manager of hun nummer hebben doorgeschakeld. Het Presence board kan ook worden opgenomen in een intranetomgeving waardoor alle medewerkers van uw firma via één centrale webpagina tevens inzicht in de Presence-status kunnen krijgen van hun collega's en toestelnummers.
Wanneer gebruik wordt gemaakt van @COM Flexworking is tevens te zien of een flexwerker is ingelogd en zo ja, op welk toestel. Het is mogelijk om de toestellen bijvoorbeeld per afdeling te groeperen, waardoor het zoeken naar personen wordt vergemakkelijkt.
Enkele functionaliteiten van @COM Presence board op een rij:
Inzicht in de status van nummerextensies of personen
Ondersteunt @COM Flexworking
Click-to-Email
Eenvoudig toevoegen van kolommen
Meertalige ondersteuning