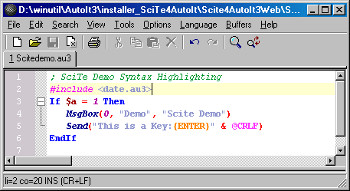 De @COM Macro Engine Light versie is een onderdeel van de @COM CTI Client en kan automatisch handelingen uitvoeren op uw Windows gebaseerde PC wanneer er inkomende oproepen voor uw toestel zijn. Zo kunt u met de @COM Macro Engine automatisch een bel-notitie laten aanmaken in uw eigen CRM applicatie of middels een simpele druk op de knop u klantgegevens opvragen. Kortom u kunt uw bedrijfs processen rondom uw telefonie grotendeels of zelfs in zijn geheel automatiseren. 
Alle gespreksgegevens die bekend zijn bij de telefooncentrale kunnen worden gebruikt om bijvoorbeeld een bel-notitie aan te maken. Dus het automatisch invullen van de datum, tijd en telefoonnummer vormen geen enkel probleem. 
De @COM Macro Engine automatiseert handelingen door middel van zogenaamde macro's. Deze macro's kunnen Windows vensters en applicaties opzoeken en openen, toets-aanslagen automatiseren, muis-bewegingen uitvoeren en nog veel meer. Hierdoor zijn de mogelijkheden zeer divers en kan er voor vrijwel elke situatie een oplossing worden bedacht. Mochten de functies binnen de @COM Macro Engine Light niet toereikend zijn, dan kunt u altijd nog kiezen voor de @COM Macro Engine Full versie waarbij onze ontwikkelaars voor u speciaal een applicatie ontwikkelen met vrijwel onbeperkte mogelijkheden. 
De @COM Macro Engine is een stukje software dat gratis wordt meegeleverd bij de @COM CTI Client, maar u dient wel een @COM CTI Server aan te schaffen om gebruik te kunnen maken van deze oplossing. Daarnaast is veelal technische assistentie vereist voor de installatie en configuratie van deze oplossing waardoor u rekening moet houden met eventuele kosten die hiermee gemoeid zijn. Vraag uw reseller om meer informatie.
NB:
De @COM Macro Engine vereist het gebruik van de @COM CTI Server welke apart dient te worden aangeschaft en in principe op elke bestaande server kan worden geïnstalleerd. Deze server wordt standaard geleverd als een Windows applicaties maar kan ook op een andere willekeurige web-server die verbinding kan maken met de @COM Business Manager en uw desktop systemen worden geïnstalleerd.
Vraag uw reseller om een demonstratie.